Our GARDEN ART is designed to complement your landscape or home, whether you're looking for an item to set on a deck, to enhance the appeal of a backyard pond, or to hangin the 'perfect place'. Upon request, we create custom pieces for our clients' landscapes and homes.
TRELLISES are our signature pieces, offering a new twist on a traditional garden favorite. As with all GBC products, our trellises weather beautifully and stay strong year after year, unlike their wooden counterparts. While many people purchase trellises primarily to support plants, several clients have positioned them artistically in their yards as backdrops or for visual appeal.
Standard varieties and unique shapes are available to support your favorite shrubs and vines in pots, along fences, up posts, and against walls.
Sizes - SM: appr. 4' tall; MD: appr. 5' tall; LG: appr. 6' tall; XL-7+'
Go to the trellis GALLERY PAGE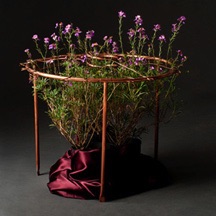 MISTING SYSTEMS provide cool relief on hot summer days. Our misters add a touch of artistic beauty to a back deck, pagoda, patio or other outdoor space.These hosed-based systems are designed in two foot increments to a maximum length of 12 feet, and are available with or without artwork.

GROW-THROUGHS provide support for many plant varieties. In the winter, while perennial patches are sleeping and bare, grow-throughs provide eye-catching garden interest. As the plant develops, grow-throughs become less obvious, providing subtle plant support so your garden beauties are stars of the show. Our grow-throughs are designed to accomodate a variety of spaces, from cedar and whiskey barrel, to large patches of your favorite tall plants.
Most grow-throughs we sell are circular in shape (although the gallery displays some custom designs ordered by clients).
Sizes: S - 12" dia.; M - 16" dia; L - 20 - 22" dia.; XL - 24 - 25" dia.
DECK FOUNTAINS are a new product line (summer 2020). What's better than enjoying the sound of running water while relaxing on your deck or patio with a beverage after a hard day's work (or play)? Our designs are nature-themed (similar to our trellises and hanging art pieces), and are intended as less costly alternatives to larger fountains. They are easy to place and maintain. All that is needed is a water source to fill the basin and a nearby electrical outlet (the pump needs a 110V electrical source).
We opt to utlize garden pots as basins, largely due to the increased expense (time and material) of creating copper basins. If you would prefer a rectangular copper basin, we're happy to work with you.
Go to the fountains GALLERY PAGE